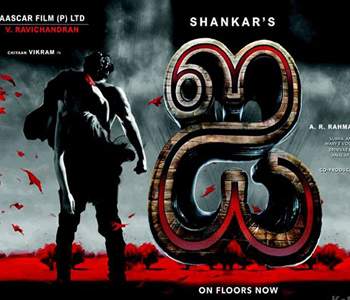 Star
Vikram, Amy Jackson, Suresh Gopi
Director
Shankar
Music
A. R. Rahman
Release Date
Fri, 23rd Nov 2012
I tamil Movie Song Lyrics
Story
Lingesan (Vikram) is a bodybuilder from a small town in Tamil Nadu, who dreams of winning the Mr India title for bodybuilding. Besides dumbbells, his only other love is supermodel Diya (Amy Jackson).

Life throws up a pleasant surprise to our sweet little simpleton. After winning the Mr Tamil Nadu contest for his perfect physique, he bags plum modelling assignments. Lo and behold, Lingesan gets a chance to model with Diya.
Well, the ruling male supermodel John (Upen Patel) is a chauvinistic pig. When Diya refuses to sleep with him, he threatens to blacklist her. But Diya outsmarts him – she befriends the local bodybuilder, rechristens him Lee and takes him to China on a commercial shoot. Further, she feigns love for him and turns the otherwise shy guy into a charismatic screen icon.

In his journey to fame and money, Lee makes more than a few enemies. An irate bodybuilder at his local gym, John – the model whose position he usurped, an egotistic advertising guru whom he offended with his principles, a gay makeup artiste whose advances he spurned – all of them want Lingesan dead.

This scheming quartet, along with a fifth guy (whose identity is suspense), takes revenge on Lee. They turn him into an unrecognizable ugly being (bearing an uncanny resemblance to Ephialtes from the Hollywood movie 300) in the hope that his life becomes a living hell. But, don't despair just yet; our hero also schemes to get back at those who stole his love and his looks.