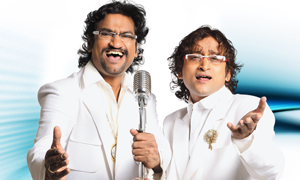 Agneepath songs and lyrics
Top Ten Lyrics
Deva Shree Ganesha Lyrics
Writer :
Singer :
Deva shree ganesha..
Jwala si chalti hai aankhon mein jiske bhi
Dil mein tera naam hai
Parwah hi kya uska aarambh kaisa hai aur kaisa parinaam hai
Dharti ambar sitar hai
Usski nazare utaare
Darr bhi uss se dara re
Jiski rakhwaliya re
Karta saaya tera

Deva shree ganesha..

Ho teri bhakti ka vardaan hai
Jo kamaaye woh dhanvaan hai
Bin kinare ki kashti hai woh
Deva tujhse jo anjaan hai
Yun toh mushak savari teri
Sab pe hai pheredaari teri
Paap ki aandhiyan na kaha
Kabhi jyoti na haari teri

Apni takdeer ka woh, khud sikander hua re
Bhul ke yeh jahaan re, kiski silien ya haare
Saath paaya tera hey

Deva shree ganesha..

Ho teri dhuli ka teeka kiye
Deva jo bhakt tera jiye
Usse amrit ka hai moh hai kya
Hass ke vish ka woh pyaala piye
Teri mahima ke chaaya tale
Kaal ke rath ka pahiya chale
Ek chingaari pakshodh se
Khadi ravaan ki lanka jale

Shatruon ki katare, ik akele se haare
Kan bhi parbhat hua re, sharok bann ke jahaan re
Naam aaya tera hey

Deva shree ganesha..

Ganpati bappa moreya
---
How to use
In Junolyrics, This box contains the lyrics of Songs .If you like the lyrics, Please leave your comments and share here . Easily you can get the lyrics of the same movie. click here to find out more Lyrics.