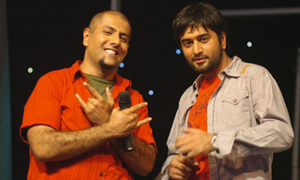 Jhankaar Beats songs and lyrics
Top Ten Lyrics
Jab Kabhi Lyrics
Writer :
Singer :
Jab Kabhi Chand Na Ho Andheri Raat HoDarna Kum Hoga Mujhko Agar Tu Saath Ho
Jab Kabhi Baadal Chaaye Ya Ghani Barsaat Ho
Hogi Khushi Har Ek Bund Mein Agar Tu Saath Ho
Is Jahan Mein Koi Mera Ho Bhi Ya Na Ho
Har Ek Lamha Par Chayega
Roshni Se Bas Ang Mein Saath Do

Jab Kabhi Jaab Kabhi Aanso Aye Aanso Aye
Ya Buri Ya Buri Saugat Ho Saugat Ho
Muskura Longa Main To Pal Bhi
Agar Tum Saath Ho

Tum Yaha Ho To Sare Duniyan Hain Idhar
Sare Armaan Khwaab Saare Bangaye Hai
Ab Tumhari Manzil
Jab Kabhi Jab Kabhi Dil Ghabraye Dil Ghabraye
Saamne Saamne Maat Ho Jeet Ke Dikhlaonga
Agar Tum Saath Ho
Jab Kabhi Jab Kabhi Haste Aye Haste Aye
Khushiyon Ki Khushiyon Ki Agaz Ho
Zindagi Hogi Jannat
---
How to use
In Junolyrics, This box contains the lyrics of Songs .If you like the lyrics, Please leave your comments and share here . Easily you can get the lyrics of the same movie. click here to find out more Lyrics.