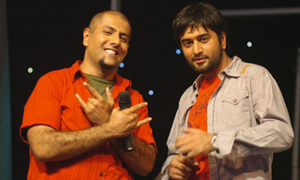 Tashan songs and lyrics
Top Ten Lyrics
Pooja Ka Tashan Lyrics
Writer :
Singer :
Suraj Ko Andha Kar Du, De Du Chaan Ko ChashmeLadki Yon Par Mujhe Pasand Nahi, Duiniya Ki Koyi Rasme
Kayi Dilo Ka Mujhse Hai Ajab Gajab Connection
Pooja Ka Yahi Toh Hai, Yahi Toh Hai Tashan

---
How to use
In Junolyrics, This box contains the lyrics of Songs .If you like the lyrics, Please leave your comments and share here . Easily you can get the lyrics of the same movie. click here to find out more Lyrics.