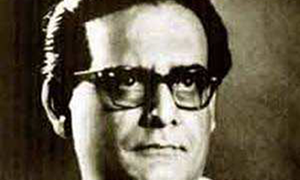 Girl Friend songs and lyrics
Top Ten Lyrics
Paise Ki Kahani Lyrics
Writer :
Singer :
Kahte hai isse paisaa bachcho
Ye cheez badi maamuli hai
Lekin is paise ke pichhe
Sab duniya rasta bhuli hai
Inasaan ki banaai cheez hai ye
Lekin inasaan pe bhaari hai
Halkisi jhalak is paise ki
Dharm aur imaan pe bhaari hai
Ye jhuth ko sach kar deta hai
Aur sach ko jhuth banata hai
Bhagavan nahi par har ghar mein
Bhagavan ki padawi pata hai
Is paise ke badale duniya mein
Insaano ki mehanat bikati hai
Jismo ki haraarat bikati hai
Ruho ki sharaafat bikati hai
Kardaar kharide jaate hai
Dildaar kharide jaate hai
Mitti ke sahi par isase hi
Awataar kharide jaate hai
Is paise ke khaatir duniya mein
Aabaad watan bas jaate hai
Dharti tukade ho jaati hai
Laasho ke kafan bas jaate hai
Izzat bhi is se milati hai
Saahil bhi is se milate hai
Tahezib bhi is se aati hai
Taalim bhi is se milati hai
Hum aaj tumhe is paise ka
Sara itihaas batate hai
Kitane yug ab tak guzare hai
Un sab ke jhalak dikhalaate hai
Ik aisaa waqt bhi tha jag mein
Jab is paise ka naam na tha
Cheeze cheezo pe tulate the
Cheezo ka kuchh bhi daam na tha
Cheezo se cheez badalane ka
Yah dhag bahut bekaar sa tha
Lana bhi kathin tha cheezo ka
Le jana bhi dushawar sa tha
Inasaan ne tab milakar socha
Kyo waqt itana barabaad kare
Har cheez ki jo kimat thahare
Wo cheez ka kyo na izaad kare
Is tarah hamaare duniya mein
Pehla paisa taiyyaar hua
Aur is paise ki hasarat mein
Inasaan zalil o khaar hua
Paisewaale is duniyaa mein
Jaagiro ke maalik ban baithe
Mazaduro aur kisaano ke
Taqadir ke maalik ban baithe
Jango mein ladaya bhukho ko
Aur apane sar par taaj rakha
Nirdhran ko diya parlok ka sukh
Apane liye jag ka raaj rakha
Pandit aur mullaa ilk ke lie
Mazahab ke sahi phailaate rahe
Shayar taarife likhate rahe
Gaayak darabaari gaate rahe
Waisaa hi karege hum jaisa tujhe
Chaahiye paisa hame chaahiye
Waisaa hi karege hum jaisa tujhe
Chaahiye paisa hame chaahiye
Hal tere jotenge khet tere boyenge
Zor tere haakenge ghot tera dhoyenge
Paisa hame chaahiye paisaa paisaa
Waisaa hi karege hum jaisa tujhe
Chaahiye paisa hame chaahiye
Paisa hame de de raaja gun tere gayenge
Tere bachche bachchiyo ka khair
Manayenge paisa hame chaahiye
Waisaa hi karege hum jaisa tujhe
Chaahiye paisa hame chaahiye
Yug yug se aise duniya mein
Hum daan ke tukade maangate hai
Hal jot ke fasale kaat ke bhi
Pakawaan ke tukade maangate hai
Lekin in bhikh ke tukado se
Kab bhukh ka sukat door hua
Inasaan sada dukh jhelega
Agar khatm bhi yah dastur hua
Zanzeer bani hai kadamo ki
Wah cheez pahale gahana thi
Bhaarat ke saputo aaj tumhe
Bas itane baat hi kehna thi
Jis waqt bada ho jaaoge tum
Paise ka raaj mita dena
Apana aur apane jaiso ka
Yug yug kaa karz chuka dena
Yug yug kaa karz chuka dena.
---
How to use
In Junolyrics, This box contains the lyrics of Songs .If you like the lyrics, Please leave your comments and share here . Easily you can get the lyrics of the same movie. click here to find out more Lyrics.