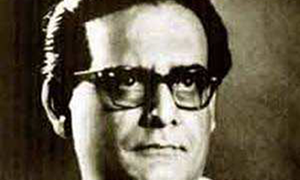 Jagriti songs and lyrics
Top Ten Lyrics
Aao Bachcho Tumhen Dikhayen 2 Lyrics
Writer :
Singer :
aao bachchon tumhen dikhaayen jhaanki hindustaan ki is mitti se tilak karo ye dharati hai balidaan ki
vande maataram ...

uttar mein rakhavaali karata parvataraaj viraat hai
dakshin mein charanon ko dhota saagar ka samraat hai
jamuna ji ke tat ko dekho ganga ka ye ghaat hai
baat-baat pe haat-haat mein yahaan niraala thaath hai
dekho ye tasveeren apane gaurav ki abhimaan kee,
is mitti se ...

ye hai apana raajapootaana naaz ise talavaaron pe
isane saara jeevan kaata barachhi teer kataaron pe
ye prataap ka vatan pala hai aazaadi ke naaron pe
kood padi thi yahaan hazaaron padminiyaan angaaron pe
bol rahi hai kan kan se qurabaani

raajasthaan ki dekho mulk maraathon ka ye yahaan shivaaji dola tha
mugalon ki taakat ko jisane talavaaron pe tola tha
har paavat pe aag lagi thi har patthar ek shola tha
boli har-har mahaadev ki bachchaa-bachcha bola tha
yahaan shivaaji ne rakhi thi laaj hamaari shaan ki
is mitti se ...

jaliyaan vaala baag ye dekho yahaan chali thi goliyaan
ye mat puuchho kisane kheli yahaan khoon ki holiyaan
ek taraf bandooken dan dan ek taraf thi toliyaan
maranevaale bol rahe the inaqalaab ki boliyaan
yahaan laga di bahanon ne bhi baaji apani jaan ki
is mitti se ...

ye dekho bangaal yahaan ka har chappa hariyaala hai
yahaan ka bachchaa-bachcha apane desh pe maranevaala hai
dhaala hai isako bijali ne bhoochaalon ne paala hai
mutthi mein toofaan bandha hai aur praan mein jvaala hai
janmabhoomi hai yahi hamaare veer subhaash mahaan ki
---
How to use
In Junolyrics, This box contains the lyrics of Songs .If you like the lyrics, Please leave your comments and share here . Easily you can get the lyrics of the same movie. click here to find out more Lyrics.