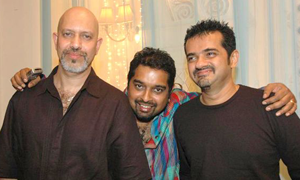 Rockford songs and lyrics
Top Ten Lyrics
Yaaron Lyrics
Writer :
Singer :
Yaaron Dosti, Badi Hi Haseen Hai
Folks, friendship is something very beautiful
Yeh na ho toh kya phir, bolo yeh zindagi hai
Life sums up to nothing when void of friendship
Koi to ho raazdaar
Let someone be your secretkeeper,
Begaraz Tera Ho Yaar
Without hesitation let them be your buddies
Koi To Ho Raazdaar

Yaaron Mohabbat Hi Toh Bandgi Hai
Friends, love is just another way to worship the Almighty
Yeh Na Ho To Kya Phir, Bolo Yeh Zindagi Hai
What would life be without any love ?
Koi To Dilbar Ho Yaar, Jisko Tujhse Ho Pyar
Somebody has to be your loved one, whom you adore the most
Koi To Dilbar Ho Yaar

Teri Har ek Buraai Pe, Daante woh Dost
Your friend scolds you for every mistake of yours
Gham ki Ho dhoop toh saaya bane tera woh dost
If your life is sunny with gloom, your friend becomes thy shade
Naache Bhi Vo Teri Khushi Mein
He'll celebrate your happiness too

(Yaaron Dosti Badi Hi Haseen Hai)

Tan mann Kare.. tum pe fida... mehboob woh
Your loved one would dedicate his heart & soul to you
Palkon Pe Jo Rakhe Tujhe... Mehboob woh
He would keep you safe on his eyelashes
Jiski wafa Tere Liye Ho
His loyalty would always remain for you

(Yaaron mohabbat)
---
How to use
In Junolyrics, This box contains the lyrics of Songs .If you like the lyrics, Please leave your comments and share here . Easily you can get the lyrics of the same movie. click here to find out more Lyrics.