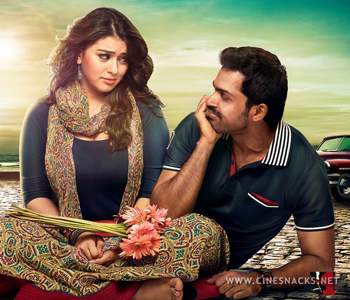 Star
Karthi, Hansika Motwani, Premji Amaren, Ramki, Mandy Takhar
Director
Venkat Prabhu
Music
Yuvan Shankar Raja
Release Date
Fri, 20th Dec 2013
Biriyani tamil Movie Song Lyrics
Story
Sugan and Parasuram leave Varadharajan's party drunk in search of a place to have biryani. They get into some serious trouble when they find his dead body in the trunk of their car.
Karthi is best when he becomes sarcastic and full of irony, this time he is the playboy Sugan along with his loyal, yet all-time complaining friend Parasu aka Premji they set out on a journey that changes their course of normality. Each of Venkat Prabhu's movies sport a theme and he somehow sticks hard to the storyline and the theme complimenting each other, Biryani is no different where a simple search for a meal makes two friends run out of fear, murder, action and what not.

Venkat Prabhu's movies portray a volley of characters and giving importance to every single of them is something that is special and close to his heart. Here Karthi and Premji steal the limelight with their timing comedy all over, however the rest of the villains, sidekicks and some cameo appearances by Jai, Arvind also makes you wonder how this guy is able to make amends meet. Through the first half the ingredients make up a commercial pot boiler and the build up to the story is slow and steady. Karthi the witty playboy always wins over the hearts of babe's and his best bud premji who tries and tries in vain.

Just as you think the movie gets rock solid and turns on to a serious note, the director gets you on the floor with one liners at a rather serious time, for instance when the heat is on the one line when Sugan's uncle quips " Appadiye antha Car enga nu kelu" makes you double with guffaws. There are so many instances all over the second half which is quite enjoyable! After an effective first half, the scenes and plot gets predictable! Well that's what you think! Like how Vivek says "Anga vacharuya Director twist", Venkat prabhu begs to differ!