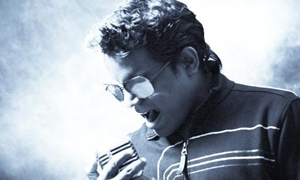 Biriyani songs and lyrics
Top Ten Lyrics
Run For Your Life Lyrics
Writer :
Singer :
oru pocket biriyani venum
aatathukku variya nee ok
five more nimidam neeyiruntha varum paaru sunami
phsyco unit
machi prachana vandha oodu
hide ou shelter ah konjam thedu
kannuku munnukku nikirathu yaaru
oru plate biriyani nala bejaaru
aan steady ah machi odu odu
machi vidama sakka podu podu
you can run machi you can't hide
i'm watching you now
run for your life
run for your life
run for your life
run for your life
yeah run for your life
here we go..here we go
thappika paau
bullet pola therikka odu
maatuna sangu oothum theriyumula?
escape panna nee paathalum vazhiyilla
ah it's a dead end bang - eh
aapu kannukku theriyathu
bang - eh sikkikitiye appuram nee
muzhikkaatha thappu pannitu
thappika nenachu pozhachukka machi
badboys never give chances
so don't take one coz you just have none
uh click click bang bang bang
thambiyodu thappiyodu thirumbi nee
paakaama biriyani kekutha - goyyala
seiyum thappa theriyira maathiri seiyaatha
no they will keep coming
atcha so better watch ah
out ok take care bye machan
peace out come on
oodura nariyila athu andha rendu nari thaanaa naa naa naa naa
siraiyile adaicha kizhiyum thunimani lungi thaan naa naa naa naa
mallaakka paduthu allaakka yosichu machi nee paaru
maatuna mavane thanni saaru
oliyira manne sir-u yaaru?
vedikka poranda!
hey kazhuvura meenula nazhuvura meena!
mazhaiyila nanainja kozhi pola veena!
you better keep on running..dont stop!
now back to beat yeah!
veliyila pona onaaiyathaan vetiyila utukunom
evano kudicha sarakku bill-ah thalaiyila kattikinom
summa kidantha sanga oothi vambila maatikinom
koli soda kudikka poyi, andha koli thondaiyila maatikkichu
uthavatha thappuku adi utha vaanguna
onnume puriyama oodithaan oliyirom
ariyaatha vayasilathaan anjaaru peru sernthu
thirudan police aatam appa aadinom
seiyaatha thappuku thaan nejamana police kitta
mudiyama muttu sandhula ipo oodurom
piecethaan irukanum athu thaan da biriyani
elumbu thaan potutu kuskava thariya nee
chinna thandaiya pottu keluthi viralalu rendaiyum pidiponda
beedi sandaiya vaangi soda bottle la sandhula viduvenda
oc-la thinnuttu easy ah udamba yethuvomda!
police pudicha poiya solli number plate ah naanga maathuvomda!
pala naalu thirudan thaanda oru naalu maatuvanu
evan thaan sonnan avana konjam kaatuda!
thiruda thaan theriyila na pathunga thaan theriyanunda
ooda theriyila na othunga theriyanuda
rammiya vachu nee joker ah poduda
thothuthita porupilla MANGATHA aaduda!

---
How to use
In Junolyrics, This box contains the lyrics of Songs .If you like the lyrics, Please leave your comments and share here . Easily you can get the lyrics of the same movie. click here to find out more Lyrics.