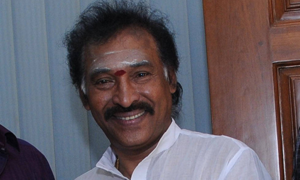 Aarumugam songs and lyrics
Top Ten Lyrics
Yamini yamini Lyrics
Writer :
Singer :
Yamini yamini yaru nee yaaro
yamini yamini kanmani yaaro
Nee arabu kavithaiyin nagala
nee iravukule oru pagala
Yamini ...
Nee nimirnthu pootha oru malara
nee thiranthu kidakum oru kadala
Yamini yamini

yamini yamini naan unthan kathali
yamini yamini endrum un kanmani

manam thadaku thadaku thadaku thadaku enna dhinam thudikuthey thudikuthey
Uyir thiduku thiduku thiduku thiduku enna athu adikuthey adikuthey
viral veduku veduku veduku veduku enna dhinam nadunguthey nadunguthey
Kural adaku adaku adaku adaku enna athil adanguthey
un vizhi saalaiyil en nadai pathaigal
un imai poovile en uyir vaasangal
kathalin puthagam athaiyil nam mugam

Yamini yamini yaru nee yaaro

imai ennaku ennaku ennaku ennaku ennaku enna eriyuthey eriyuthey
ithazh unnaku unnaku unnaku unnaku unnaku enna kaniyuthey kaniyuthey
sugam aduku aduku aduku aduku enna iru uthadugal kenjuthey
mugham sivaka sivaka sivaka sivaka sivaka un muzhumaigal anjuthey
vennila dhesame unnil enn swasame
vinnil en paarvai unnil enn vervaiye
kathalin bashaiyil samatham mouname

Yamini yamini yaru nee yaaro
yamini yamini kanmani yaaro
en ithaya mejaiyai thiranthai
en kavithai koodaiyai niraithai yaaru nee
en kanavu pookalai parithai
en mutha saralil kulithai yaaru nee yaaru nee.
---
How to use
In Junolyrics, This box contains the lyrics of Songs .If you like the lyrics, Please leave your comments and share here . Easily you can get the lyrics of the same movie. click here to find out more Lyrics.