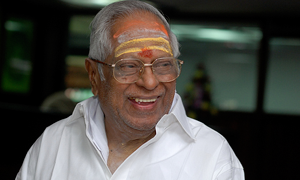 Sivantha Mann songs and lyrics
Top Ten Lyrics
Oru Raja Raniyidam Lyrics
Writer :
Singer :
oru raajaa raaniyidam vegu naalaaga aasai kondaar
avan vaendum vaendum enraan aval naalai naalai enraal
(2)
idhai kaanaadhu neeyinrith theeraadhenraan

(oru raajaa)

senniraththup poochcharamoa maiyezhudhum
siththiraththup thaenkudamoa
mannar ingu maaniramoa paesum mandhirangal yaaridamoa
aasaiyulla maeniyilum oru pakkam achchamulla
maaninamoa
naaduvittu naadu vandhaal penmai naanaminrip poay
vidumoa

(oru raajaa)

oadam ponnoadam idhu unnoadum ennoadum oadum
oadattum oadamenna ini en vaazhvum unnoadu oadum
virundhum marundhum un kannallavaa
irundhum maraiththaen naan pennallavaa
naalai en vaanaththil dhaevi nee
maadhaththil oar naal dhaan pournami
poagattum poagap poaga indhap ponnoonjal ennenjil
aadum

(oru raajaa)

naaloru maeni pozhudhoru vannam I LOVE YOU
naanoru thaenee neeyoru roajaa I LOVE YOU
kaalam nammaith thaeduginradhu vaa vaa vaa
kaadhal dheyvam paaduginradhae vaa vaa vaa

"ALPS malaiyin sigaraththil azhagiya RHINE nadhi
oaraththil
maalaip pozhudhin saaraththil mayangith thirivoam
paravaigal poala"
manjal malaraal aadai pinnuvoam vaa vaa vaa
vaazhvae vaagana aadai poaduvoam vaa vaa vaa

velliya maegam thulli aezhundhu alli vazhangum vellaip
poovil
pudhuvidhamaana sadugudu vilaiyaattu
vittuvidaamal kattiyanaiththu thottadhu paadhi
pattadhu paadhi
vidhavidhamaana joadigal vilaiyaattu
idhu kaadhalil oru ragamoa ingu kaadhalar arimugamoa
(2)

indhap poo meththai paniyitta panju meththaiyoa
indhap boomikku avanitta pattuch chattaiyoa
chiththiram poaloru muththirai ittaanoa
saerndhu kaliththidak kattalai ittaanoa
inbath thaenidai aadum dhaevadhai poala aadida
vaiththaanoa
indha naeraththil idhu sugamoa idhazhoaraththil
paravasamoa (2)
---
How to use
In Junolyrics, This box contains the lyrics of Songs .If you like the lyrics, Please leave your comments and share here . Easily you can get the lyrics of the same movie. click here to find out more Lyrics.