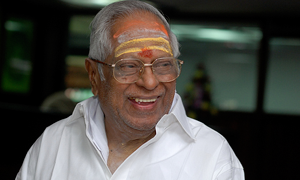 Nam Naadu songs and lyrics
Top Ten Lyrics
Ninathathai Nadathiyae Lyrics
Writer :
Singer :
ninaithathai nadathiyay
mudippavan naan naan naan
thunichalai manathilay
valarthavan naan naan
ennidam mayakkam
kondavar pazhakkam
indrum endrum thayvai yendru
solladi thangam
lr
thangam thangum endhan angam
engengum
ponnum pennum vandhu minnum
kannengum
vilayattu p pillaigal
thalaiyaatum bommaigal
vara vayndum ellorum
uravaada innayram
pattaadai thottaada k kattaayam vaa
ninaithathai

tms
panneeril kulipadhu
maaligai nenjam
kanneeril midhappadhu
ezhaigal ullam
padaithaan oru ulagam
panam thaan adhan uruvam
edhuvum idhil adakkam idhu
yaynendru edhirkaalam
vidai koorattum

ninaithathai

lr
senthaynai vadippadhu
thaamarai kannam adhai
sinthaamal koduppathu
poovizhi k kinnam
mudhal naal mella thodalaam
maru naal micham peralaam
avanthaan nalla rasigan
idhai ariyadha neeyaaro
pudhu p paadagan
ninaithathai

tms
sollamal nadappadhu
naadaga mondru
adhu
indrodu nillaamal
naalayum undu

lr
idhazhmayl oru paadal
madimayl vilaiyaadal
idaiyil siru oodal
idhai
naan solla thaanindha
vizhi jaadaigal
ninaithathai
---
How to use
In Junolyrics, This box contains the lyrics of Songs .If you like the lyrics, Please leave your comments and share here . Easily you can get the lyrics of the same movie. click here to find out more Lyrics.