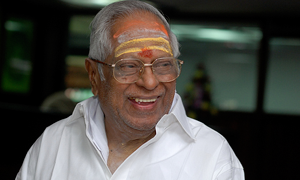 Naalai Namathe songs and lyrics
Top Ten Lyrics
Anbu Malargale Lyrics
Writer :
Singer :
Anbu Malargalae Nambi Irungalae,
Nalai Namadhae intha Nalum Namadhae
Dharmam Ulagilae...Irukum Varaiyillae,
Nalai Namadhae Intha Nalum Namadhae

Thai Vazhi Vantha Thangankal Ellam,
Orr Vazhi Nindru Ner Vazhi Sendral,
Nalai Namadhae
Kalangal Ennum Solaigal Malarthu,
Thai Kanniyaga Namakenna Valarinthu,
Nalai Namadhae(x2)

Stanza1
Pasam Ennum Nul Vazhi Vantha Pasa Malar Kuttam
Aadum Aazhagil Amaivathuthaanae Vazhkai Poonthottam
Moondru Thamizhum Orr Yidam Nindru, Paada Vandum Kaaviya Sinthu...(x2)
Antha Naal Ninaivugal Entha Naalum Marathu...(x2)
Nalai Namadhae(x2)

Stanza 2
Veedu Ennum Kovilil Vaitha Velli Thibangalae,
Nalla Kudubam Olimayamaaga Velicham Tharuinkalae
Naadum Veedum Ungalai Nambi, Neegalthanae Annan Thambi
Ethaiyumae Thangidum Idhayam Endrum Marathu
Nalai Namadhae.....(Chorus)

---
How to use
In Junolyrics, This box contains the lyrics of Songs .If you like the lyrics, Please leave your comments and share here . Easily you can get the lyrics of the same movie. click here to find out more Lyrics.