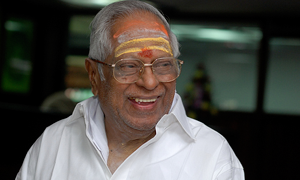 Moondru Mudichu songs and lyrics
Top Ten Lyrics
Vasanthakala Nadhigalile Lyrics
Writer :
Singer :
Vasantha kaala nathigalile
Vairamani neeralaigal (2)
Neeralaigal meethinilae
Nenjirendin ninaivalaigal (2)
Ninaivalaigal thodarndhu vanthaal
Neramellam kanavalaigal (2)
Kanavalaigal valarvatharku
Kaamanavan malarkanaigal (2)
Ninaivalaigal..
Malarkanaigal paainthu vittaal
Madi irandum panjanaigal (2)
Panjanaiyil pallik kondaal
Manamirandum thalaiyanaigal
Vasantha kaala..
Thalaiyanaiyil mugam puthaithu
Šarasamidum pudhuk kalaigal (2)
Pudhukalaigal peruvatharku
Poomalai manavinaigal
Vasantha kaala..
---
How to use
In Junolyrics, This box contains the lyrics of Songs .If you like the lyrics, Please leave your comments and share here . Easily you can get the lyrics of the same movie. click here to find out more Lyrics.