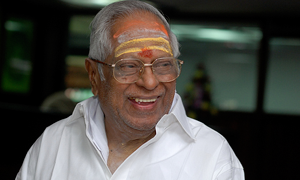 Kezvaanam Sivakkum songs and lyrics
Top Ten Lyrics
Kadavul Ninaithan Lyrics
Writer :
Singer :
kadavuL ninaithaan maNa naaL koduthaan
vaazhkai uNdaanadhE
kalai magaLE nee vaazhgavE
avanE ninaithaan uRavai vaLarthaan
iraNdum onRanadhE
thiru magaLE nee vaazhgavE
aayiram kaalamE vaazhavE thirumaNam
aayiram kaalamE vaazhavE thirumaNam
(kadavuL)

ezhil vaanam engum pala vaNNa mEgam
azahgaana veeNai aanandha raagam
edhir kaala kaatRu edhu seyyum enRu
aRiyaadha uLLam adhu deiva veLLam
maalai nee katti vaithu koNdu vandha vELai
nal pottu vaithu ingu vandha kaalai
nee eNNiyadhum illaiyammaa naaLai
(kadavuL)

maNamEdai kaNda malar pOnRa peNmai
maNavaaLan kaiyil viLaiyaattu bommai
viLaiyaattu kaaNa varuginRa deivam
viLaiyaadumaanaal edhu vaazhvil uNmai
kaalam nEE kaigaL thandhu ingu vandha nEram
un kaadhil anRu solli vaitha vEdam
un kattazhagum mangalamum vaazhga
---
How to use
In Junolyrics, This box contains the lyrics of Songs .If you like the lyrics, Please leave your comments and share here . Easily you can get the lyrics of the same movie. click here to find out more Lyrics.