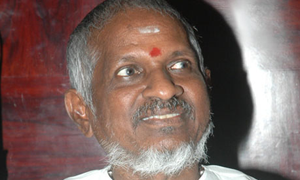 Rajadhi Raja songs and lyrics
Top Ten Lyrics
Malayala Karaiyoram Lyrics
Writer :
Singer :
silu siluvena kuLir adikkudhu adikkudhu
siru arumbugal malar vedikudhu vedukkudhu
vanam vittu vanam vandhu marangothi paravaigal
manam vittu sirikkindrathe

malayaala karayoram tamizh paadum kuruvi
alaiyaadai kalayaamal thalaiyaattum aruvi
malamudiyinil pani vadiyudhu vadiyudhu
maN madangudhamma
thalaiyanayinil manam karaiyudhu karayudhu
kann mayangudhamma

neeril mella siru nethili thulla
nerodai thaayai pola vaari vaari alla
neela vanam adhil athanai megam
neerkondu kaatrileri neenda dhooram pogum
katoram moongil pookal vaasam veesa
kaadhodu yedho solli jaadai pesa
pechum parthum????? koodatho
tholai thottu aadadho
paarkka paarka aanandham
pogapoga vaaradho
yen manam thulluthu than vazhi selluthu
vanna vanna poove

humming.......

thooral undu malai saaralum undu
ponmaalai veyil kooda eeramavadhundu
thotamundu killi kootamum undu
killaikum namai pola kaadhal vaazhkkai undu
naan andha killai pola vazha vendum
vaanathi vattamittu paada vendum
yennam yennum chittu thaan rekkai katti koLLaatha
yettu thikkum htottu than yetti paayndhu selladha
---
How to use
In Junolyrics, This box contains the lyrics of Songs .If you like the lyrics, Please leave your comments and share here . Easily you can get the lyrics of the same movie. click here to find out more Lyrics.