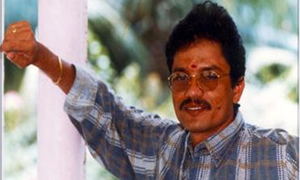 Varushamellaam Vasantham songs and lyrics
Top Ten Lyrics
Anarkali Adiye Lyrics
Writer :
Singer :
zu zoo zoo zoo zu zoo...

adi anaargali adiyae anaargalee
kanavu kaatchiyil vandha kaadhal dhaevadhai
yen idhayam enbadhoa un vasandha maaLigai

(adi anaargali...)

thaen endra soll thithithidumaa?
illai thee endra sol suttuvidumaa?
ada un paerai ingu naan solvadhaal
poo pookkuthey aacharyama

paal endra soll pongividuma
illai neer endra soll sindhividumaa?
ada nam kaadhalai nee sonnadhum
naan nanaigiRaen sandhoshama

vizhigaL kadidham poadum
adhai idhayam padithu rasikkum
idhu mouna raagama? mayakka vaedhama?
kaadhal kaeLvi kaetkkum

(adi anaargali...)

dinakka dhina dhinna dhinna thaa dhinna aaah... (3)

kai raegaigaLai idaiyil vaithaay
un kaN raegaigaLai hmm.. vaithaay
un poaraadum idhazh soodaara en
kaNNangaLil neendha vaithaay

eeradi varai thangathai vaithaan
andha moondradikku avan sorgaththai vaithaan
pinbu naaladikkum micham ayndhadikkum bhramman
vaan nilavai vaithu unnai seydhaan

viLakku yedhaRku vaeNdum
naam viLakkam kaaNa vaeNdum
ada maNNai saeravae mazhaikku yedhaRkaiyaa
paalam poada vaeNdum

(adi anaargali...)
---
How to use
In Junolyrics, This box contains the lyrics of Songs .If you like the lyrics, Please leave your comments and share here . Easily you can get the lyrics of the same movie. click here to find out more Lyrics.