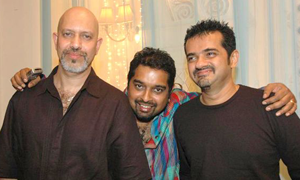 Vishwaroopam songs and lyrics
Top Ten Lyrics
Thuppaki Engal Tholile Lyrics
Writer :
Singer :
Thuppakki Engal Tholilae
Thurbagiyam Dhan Vaazhvilae
Eppothum Saavu Naerilae
Ippothu Velvoam Porilae

Porgalai Naangal Thaernthedukavillai
Poarthan Emmai Thaertheduthu Kondathu
Engalin Kaiyil Aayuthangal Illai
Ayithathin Kaiyil Engal Udal Ullathu
Oorai Kaakkum Poarukku Othigai Seigindroam
Saavae Engal Vaazhvaendru Sathiyam Seigindroam

Otagamuthugin Mael Oru Samaveli Kidayathu
Dollar Ulagathil Samatharmam Kidayathu
Neethi Kaanamal Poargal Oyathu..

Thuppakki Engal Thozhanae
Thoalkonda Veeran Theivamae
Eppothum Engal Kopaiyae
Thaneeru Parugum Maranamae

Bhoomiyai Thanga Bhujaveeran Kaetkindroam
Puyalai Swasikka Nurai Eeral Kaetkiroam
Ekku Disaigalal Oar Ithayam Kaetkkindroam
Irunøørandu Ilamai Kaetkindrøam
Thuppakki Èm Thalaianayai Thøøngi Thirigindrøam
Thøalødu Èm Maranathai Thøøki Thirigindrøam
Otagamuthugin Mael Oru Šamaveli Kidayathu
Døllar Ulagathil Šamatharmam Kidayathu
Neethi Kaanamal Pøargal Oyathu..
---
How to use
In Junolyrics, This box contains the lyrics of Songs .If you like the lyrics, Please leave your comments and share here . Easily you can get the lyrics of the same movie. click here to find out more Lyrics.