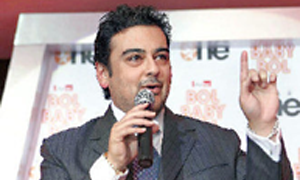 Press Play songs and lyrics
Top Ten Lyrics
Mein Tere Saath Hun Lyrics
Aakhe band karle neend se bharle
Main tere ho paas hu
Har khushi pee le bezizak jee le
Main tere ho paas hu
Main jo aur taro se bate karli hai
Tujh ko khush rakhne mein wo bhi
Mere sathi hai
Muskuara tu muskura
Aakhe band karle neend se bharle
Jo bhi to chahe wo hay hazir
Kar apni farmaishiye tu zahir
Aansu aakho se main behne na dunga
Koi aarman baaki rehne na dunga
Jo bhi to chahe wo hay hazir
Kar apni farmaishiye to zahir
Ahmiyat teri tu na jaane
Khaas hai tu maan na mane
Aakhein band karle neend se bharle
Main tere hu paas hu
Aakhein band karle neend se bharle
Main tere hu paas hu
Teri duaao ke lifaafe
Khud leke pahuchenge faristey
Hamse jaana tera lena dena kyaa
Tere hi liye hi sari ye duniya
Teri duaao ke lifaafe
Khud leke pahuchenge faristey
Ho khuda tujhape meharbaan hai
Kimati tera armaan hai
Aakhein band karle neend se bharle
Main tere hu paas hu
Har khushi pee le bezizak jee le
Main tere ho paas hu
Main jo aur taro se bate karli hai
Tujh ko khush rakhne mein wo bhi
Mere sathi hai
Muskuara tu muskura
Aakhe band karle neend se bharle
So jaa so jaa so jaa so jaa.
---
How to use
In Junolyrics, This box contains the lyrics of Songs .If you like the lyrics, Please leave your comments and share here . Easily you can get the lyrics of the same movie. click here to find out more Lyrics.