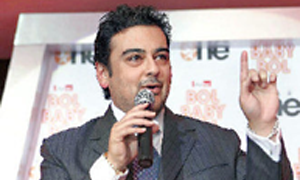 Press Play songs and lyrics
Top Ten Lyrics
Dua De Lyrics
Teri hi chahat main mohobbat mein
Har dhadkan fanna ho dua de
Tujhko hi pane ki kosis mein
Mujh se gunah ho dua de dua de
Teri hi chahat main mohobbat mein
Har dhadkan fanna ho dua de
Tujhko hi pane ki kosis mein
Mujh se gunah ho dua de dua de
Dua de dua de
Hota hai tajub muje tu nahi mere pass hai
Kya to main teri duba hu hai
Ehasas ye ye bhi to khaas hai
Teri hi chahat mai mohobbat mein
Har dhadkan fanna ho dua de
Tujhko hi pane ki kosis mein
Mujh se gunah ho dua de dua de
Teri hi chahat main mohobbat mein
Har dhadkan fanna ho dua de
Tujhko hi pane ki kosis mein
Mujh se gunah ho dua de dua de
Dua de dua de
Dil me jitna pyar hai kar liya ho chahi jo
Kuch to badle tu bhi de
Ranje shin ho ya koi gila ho
Teri hi chahat mai mohobbat mein
Har dhadkan fanna ho dua de
Tujhko hi pane ki kosis mein
Mujh se gunah ho dua de dua de
Teri hi chahat main mohobbat mein
Har dhadkan fanna ho dua de
Tujhko hi pane ki kosis mein
Mujh se gunah ho dua de dua de.
---
How to use
In Junolyrics, This box contains the lyrics of Songs .If you like the lyrics, Please leave your comments and share here . Easily you can get the lyrics of the same movie. click here to find out more Lyrics.