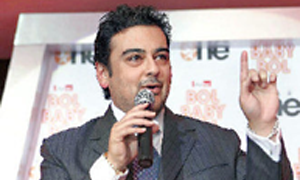 Press Play songs and lyrics
Top Ten Lyrics
Kudi Tight Lyrics
Kudiya ne vekho ekdum tight
Dekh ke aenu dil ho gaya flat
Singis baj gayi thah karke
Chuk la mai aedi banh fadke
Badi hot lagdi tota peace lagdi
O badi tight lagdi
Menu flait kardi
Kudiya ne vekho ekdum tight
Dekh ke aenu dil ho gaya flat
Singis baj gayi thah karke
Chuk la mai aedi banh fadke
Badi hot lagdi tota peace lagdi
O badi tight lagdi
Menu flait kardi o chhodi
Tu lagi mainu kudi pathaka
Dilan de shaade maara hai daka
Tu lage menu garam masala
Ni tota hai tu badiya dyala
Tere ti lage haye munde ni deewane sare
Loot ke le gaye tere aankhan de ishare sare
Tere ti lage haye munde ni deewane sare
Loot ke le gaye tere aankhan de ishare sare
O badi hot lagdi toota peace lagdi
O badi tight lagdi menu flait kardi
Menu flait kardi o chhodi
Kudi ne dekho ekdum tight
Dekh ke aenu dil ho gaya flait
Singis baj gayi thaah karke
Chuk la mai aedi banh fardke
Badi hot lagdi tota peace lagdi
O badi tight lagdi
Menu flait kardi
Ni kudi hai tu wine di bottal
Tere te ashi rahenge total
Ni tere aedi dude mare sutiya
Chadiya dil nu sad sutiya
Rang gulabi teri patli kamar soni
Aankh nashli teri dor sharbi soni
Rang gulabi teri patli kamar soni
Aankh nashli teri dor sharbi soni
Badi hot lagdi tota peace lagdi
O badi tight lagdi menu flait kardi
Kudi ne dekho ekdum tight
Dekh ke aenu dil ho gaya flait
Singis baj gayi thaah karke
Chuk la mai aedi banh fardke
Badi hot lagdi tota peace lagdi
O badi tight lagdi
Menu flait kardi
Chal dafaa ho.
---
How to use
In Junolyrics, This box contains the lyrics of Songs .If you like the lyrics, Please leave your comments and share here . Easily you can get the lyrics of the same movie. click here to find out more Lyrics.