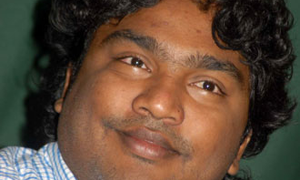 Dheemaku songs and lyrics
Top Ten Lyrics
Maribeda Lyrics
Writer :
Singer :
jay bharat janani tanujate, jay he (4) karanatak mate (2)
maribeda hettewarrana, adiolle snehita ranna (2)
bidbeda kettawaranna kapada hendawaranna
karadalla bharatiya ranna, yeliyona kannada teranna
nagu (4) tanali (2) yene aadare

oppa ranna hunna kannada kavita hunne
ganga ka dabma hoisala kannada preetige kannda yadadu
yen baari goro kanado dnyanapithegal hammoru
kaligala kavaruru badami, aihola beloru
ee galgal manase dhinna, illa yellari guntu hanna
maretare yeno channa ee manni narunavanna
karadalli bharatiya ranna
hanchona kannada kampanna (2)

holle tanne nodi keli holle madatana nadona
jarida janare dure jaisee ??? karite mariyona
katta kondu kanni ruttu kala kodadara haragalla
vanava giddavanu bhayara sulige silusalla
katti asagil andaga kimaga torisee tapilla
katti masiuva iddaragi ee himaga balasu solilla
illiyoru hagida tari
marisee nadiuttha badasona (2)
maribeda hettewarrana, adiolle snehita ranna
bidbeda kettawaranna kapada hendawaranna.

---
How to use
In Junolyrics, This box contains the lyrics of Songs .If you like the lyrics, Please leave your comments and share here . Easily you can get the lyrics of the same movie. click here to find out more Lyrics.