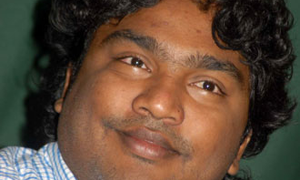 Dheemaku songs and lyrics
Top Ten Lyrics
Suprabhatha Lyrics
Writer :
Singer :
amaladhida kichaka kanthaka pataka nichaka raataka ghatukanu
amaladhika lochane lotapate vijamalle kode tailapate
idu likkaru kickaru prikkarido ninna liverige pavarige dangerigo
idu heddige bloodige badu kano ninna jebige babyge bladu kano
ugi tinnabadi tinnabadi sannidu sinnidu yenu kathe
prati nightunee tightudee na bari fightu ida yaruda fateu diu yenu vyathe
paishta anishtaka nishtaka nishtanee dushatanee kashtanee dushtanee brhashtanee astakano
neen wifege lifige chumba kano ninna koniyasawarige bumba kano
yelo halmukha bilmukha nayamukha narimukha gubenee drabeenee katrenee chitrenee chirekano
ninna vaiyali bandide bandi kano ninge aridee muradee gundi kano
ninna gamsula bamsukrada damsara samsura gamsati sumsati gumharakkama
satatamkala hamma neerutammvira summa idu crime all the time trouble sum trouble sum
shuradee shuram beeradee biram pura shariram bariram bariram
sodadee panam cigaretu dhumam sahnkhadee vadyam babambam babambam
bina sankatesham noyeskara notellelar bhayaskar bayambeeti zeero noyengar noyeladar
badakonde magane limitto limitto kelalilla iga omitto omitto
kudi beda magane kadu roga ninage adughorashitam
kuditane iddre nadu waisee nalle garanty gottam
chi chi chi daridrawe ninondu pretam
biddirawe yake yeddelo papi ninage
ide suprabhatam.

---
How to use
In Junolyrics, This box contains the lyrics of Songs .If you like the lyrics, Please leave your comments and share here . Easily you can get the lyrics of the same movie. click here to find out more Lyrics.