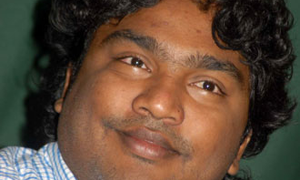 Dheemaku songs and lyrics
Top Ten Lyrics
Nodai Kaanta Lyrics
Writer :
Singer :
nodai kanta mudana disayona, nad mudutida chjandrana prafayo
chandra chakori tingal tari, hoowa hasige yenthide nari
sarsake samayavu ida ramana, beduwe barada shri ramana
andike yake madhu ramani, belagu nimmanu na simbhegee
simbhinee ravanee lankenee dhakinee zakeneyamma dode biddurava
kurikadarova yaro illa illi kogiree

bhalare bhvya belagu sutella phalaku phalaku
santoshawada badaku illilla kelu nijaku
premadi nimmadi kunadu nane beke beku
monkey jari biddeya joke, shanke preetiyalli beda nannage

sante gogumma jatre nodumma tentle koruma
aase aite kasu aite sumake yake kumate
matte matte kyate

priya priya priya beda priya
wonde guri volavu gelavu bidu bhaya
kalla malla genda tima manskuda timma
prema loka gella balla bajarima
dhira dhira shura savira sullidu
chodi jiva kanda yeradu kanasidu, lokave helida matidu
preetisee hedara baridu

bidalare (4) bid bid (3) - (2)
kanna gudde meleiruwa bimba nane tane
ninna dudiya mele iruwe nageu nanage tane
nanu neenu seriha irada dulattane
i love you baby.

---
How to use
In Junolyrics, This box contains the lyrics of Songs .If you like the lyrics, Please leave your comments and share here . Easily you can get the lyrics of the same movie. click here to find out more Lyrics.